NBL-1 Series RTU is a type of industrial cellular remote telemetry unit, which adopts high-powered industrial 32-bits CPU, with multi-layer software detection and hardware protection mechanism to ensure reliability and stability of the device.
It supports worldwide carrier 4G/3G/2G cellular network FDD-LTE, TDD-LTE, and HSPA/UMTS/WCDMA, EVDO, TD-SCDMA, EDGE, CDMA 1X and GPRS, to realize real time data acquisition, storage, control, alarm and transmission, as well as security of data transmission.
NBL-1 has rich interfaces, including tipping bucket rain gauge input, gray code, RS232, RS485, SDI-12, I/O(analog input, digital input and output), etc., and it has been widely used for remote monitoring and control applications, such as, hydrology, water resources, water pollution, water treatment, reservoir dam, mountain flood disaster, geological disaster, meteorology, environmental protection, new energy resources, etc
NBL-1 Series RTUutilizes cellular network to connect your network devices and serial port devices to your center for remote monitoring and control.
Typical application as below.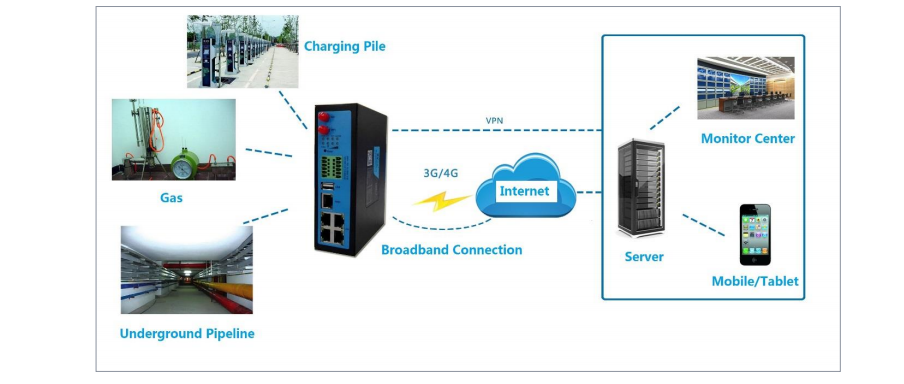 Number of ports: 4, (2x RS232, 2x RS485)

Note: Built-in 8KV ESD protection for RS232, and 15KV ESD protection for RS485
Baudrate: 300~230400bits/s
Data Bit: 5, 6, 7, 8 bits
Stop Bit: 1, 1.5, 2 bits
Check: No, Even-parity, Odd Parity, SPACE and MARK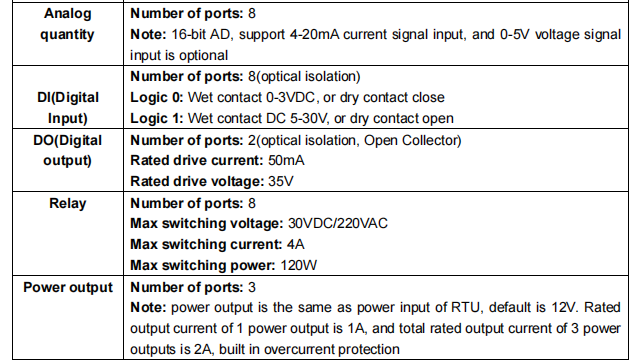 Rich interface, strong scalability, to meet the intelligent collection and reporting of rainfall, water level, water quantity, water quality and other data information.
RTU local configuration, support LCD/keyboard configuration and serial port configuration.
Embedded TCP/IP protocol , standardized MOBUS protocol, can meet the complex industrial application environment applications.

Ultra-low power consumption design, with multi-level sleep and wake mode. Support self-reporting, query, compatible and other working modes. It can also meet various power supply methods such as battery, mains and solar power.

Provide 16MB data storage space, can store more than 10 years of collection data, massive space, can be stored in the local cycle monitoring data, power failure will not be lost.

Also support TF card storage, long-term storage of set parameters and historical data!

Compatible with soil sensors, water sensors, weather sensors.

2 tipping bucket type rain gauge interfaces.

1 x 12-bit Gray Code interface.
2 RS232 interfaces, 2 RS485 interfaces.
1 SDI-12 interface.
8 analog input interfaces (16-bit AD, support for 4-20mA current or 0-5V voltage signals).
8 switch input interfaces, 2 switch output interfaces.
8 relay outputs.
3 power outputs.
Tell us your requirements,Let's discuss more about your project,we can do more.