TD210 series DTU is an industrial-grade wireless digital transmission terminal, designed to fully meet the industrial-grade standards and needs of industrial users, adopting high-performance industrial-grade 32-bit communication processor, software multi-level detection and hardware multi-protection mechanism to improve the stability of the device. It supports 4G networks of various carriers, and the interface is flexible, supporting standard RS232 and RS485 interfaces and customizable TTL levels.
This series of products can help users quickly access high-speed Internet, realize safe and reliable data transmission, widely used in intelligent power, oilfield monitoring, intelligent water conservancy, self-service terminals, meteorological and environmental protection, industrial control, energy, coal mining, logistics and warehousing, intelligent transportation, urban heating and other industries.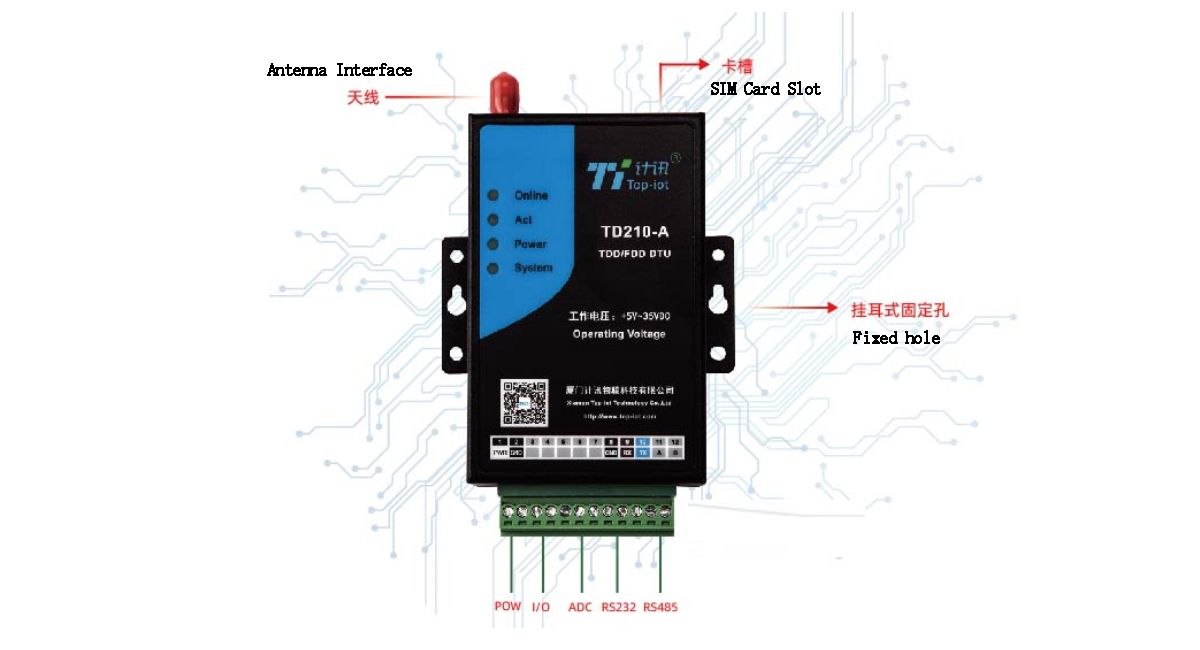 TD210 series DTU product features:
1. 1 RS232 and 1 RS485, reserved 3-way I/O interface and 2-way ADC support transparent data transmission, embedded standard TCP/IP and UDP/IP protocol stack. 2.
2. Supports the environmental protection 212 protocol.
3. Supports standard MQTT protocol, which can be quickly docked with AliCloud platform, TreeRoot platform and FlyingPhoenix platform.
4. Supports multi-center (up to 5) and TCP server function , according to the domain name and IP address to access the center .
5. Support TCP heartbeat link detection, keep the device always online  support APN/VPDN  support SMS backup function, when TCP/UDP disconnection, you can use SMS to send data  support SMS, phone ringing, serial data and other up and down trigger mode.
6. Support equipment running hardware and software self-test technology, running fault self-repair.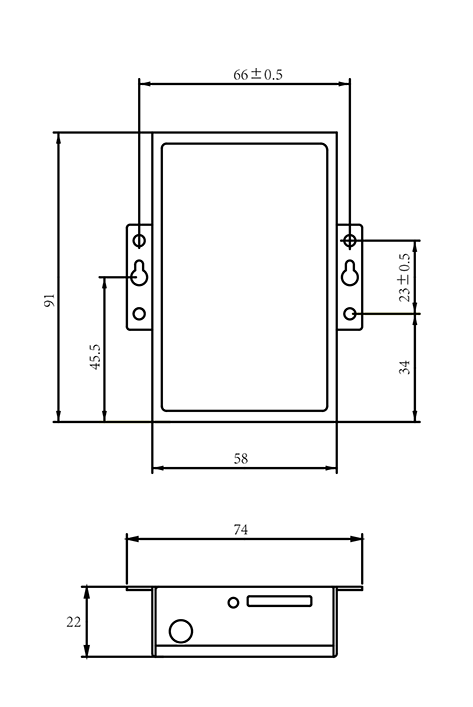 ● Industrial MCU built in, rugged and reliable
● Global 4G/3G/2G compatible
● 1-RS232, 1-RS485
● Modbus RTU, MQTT, TCP/UDP protocols
● Transparent data transmission, Modbus to JSON over MQTT,CSD
● AT Command, SMS
● Up to 5 sync data center
Power supply interface: standard power supply DC 12V/0.5A
Power supply range: DC 5~35V.
Built-in power inversion protection and over-voltage protection.

Serial Port: The serial port adopts industrial terminal interface, suitable for industrial applications, RS232 or RS485 interface with built-in 15KV ESD protection, customizable TTL level.
Analog (reserved): (pins 6 and 7) 2 analog inputs (10-bit AD, support 4-20mA current signal input, optional 0-3V voltage signal input).
IO ports (reserved): (pins 3, 4 and 5) 3 GPIOs, can be configured as inputs and outputs, communication level 3.3V.
Serial port parameters: Serial port rate 300~230400bits/s .
Data bits: 5, 6, 7, 8 bits.
Stop bit: 1, 1.5, 2 bits.
Checksum: No checksum, even checksum, odd checksum, SPACE and MARK checksum.
Others: Indicators System, power, communication and online indicators.
Antenna Interface: Standard SMA female antenna interface with 50 ohm characteristic impedance.
SIM/UIM card interface: standard drawer type user card interface, support 1.8V/3V SIM/UIM card, built-in 15KV ESD protection.
Product Characteristics:

Environmental conditions: Operating temperature range: -35~ +75ºC
Storage temperature range: -40 ~ +80ºC
Relative humidity range: 95% non-condensing
Tell us your requirements,Let's discuss more about your project,we can do more.